Search by State (e.g. Alabama)
What Does Reinstating a Business Mean?
If you're not entirely sure what business reinstatement is all about, don't worry — it's as simple as taking a business that's been dissolved (in other words, closed) and making it become active again.
But the exact steps you need to take in order to do so vary by state, which is where most entrepreneurs' confusion stems from.
For example, in most states, you need to reinstate an LLC by going through the Secretary of State, but in some, you'll need to reinstate via the Department of Revenue or another government office.
Similarly, some states require a reinstatement fee, while others simply ask that you file all past due documents.
But in most cases, the entire reinstatement process can be boiled down to these steps:
Fill out the required forms. These can be found on the website of your state's Secretary of State, Division of Corporations, Business Registration Division or other government body.
File the forms with your state. The names of these forms vary by state and are sometimes called Application for Reinstatement, Certificate of Restoration of Good Standing, Certificate of Reinstatement, etc.
Pay any necessary fees. Fees can range from $10 all the way up to $300, depending on your state.
Sit back and wait for your business to be officially reinstated. It could be as quick as 2 days or as long as 90 days.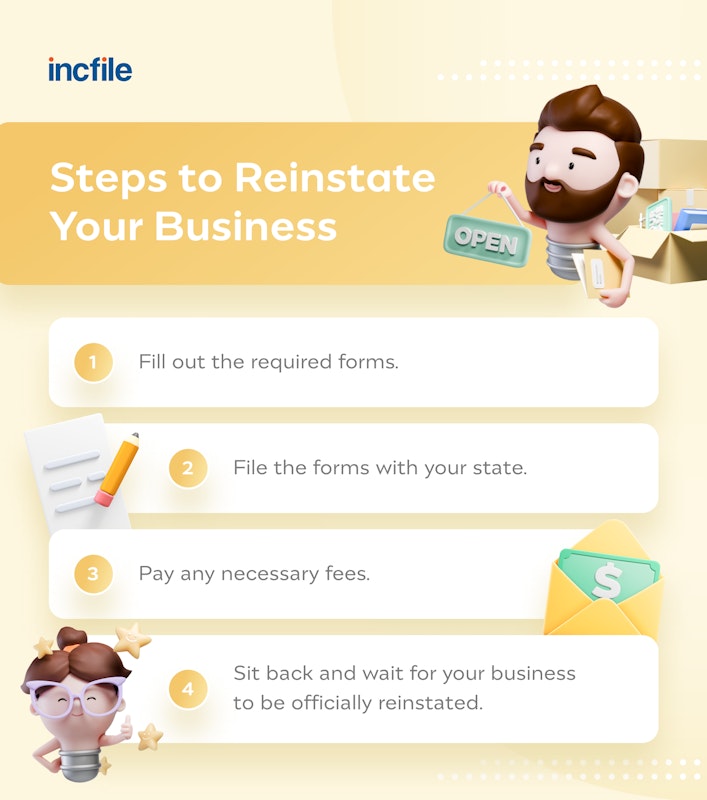 And if your business is reinstated, but you still need to prove that it's all caught up on its taxes, fees and paperwork, you can do that too. You'll just need a Certificate of Good Standing from your state — in most cases, you can request one online in a matter of minutes.
What Does It Mean to Be In Good Standing?
If a business is in good standing, that means it's fulfilled all its legal obligations — i.e., filed all the necessary paperwork and paid all owed taxes and fees.
In many states, a business can prove it's in good standing by obtaining a Certificate of Good Standing. But in others, that same document may go by a different name, such as Certificate of Status, Certificate of Compliance or Certificate of Existence.
So if you're looking to order a Certificate of Good Standing, be sure you know what it's called in your state to avoid any future confusion.
Why Would a Company Be Dissolved?
Wondering why a company would be dissolved in the first place? There are a number of possible reasons for involuntary dissolution, including if the business:
Failed to file required reports and forms, such as its annual report
Failed to pay its taxes and/or file tax returns
Failed to keep a Registered Agent
A business can also be voluntarily dissolved by its owner. For example, a company owner may choose to dissolve if the business becomes unprofitable, they decide to pursue another venture, there's conflict between co-owners or they're entering retirement.
If you have a business that's been dissolved, either voluntarily or not, that doesn't mean you can't ever open it again. With the reinstatement options explained here, you can get your business back up and running in no time.
Want the most stress-free reinstatement experience possible? Leave the nitty-gritty details to us. Our Reinstatement service is available in most states, and it's beyond convenient. All you need to do is provide some information about you and your business — we'll handle the rest.